Frontline Asset Strategies is a receivables management firm established in 2008, with its success driven by a strong team and commitment to best practices. We offer recovery solutions for creditors as we work to help consumers achieve account resolution. We are headquartered in Roseville, MN with a satellite office in Jacksonville, FL. 
Find Your Fit
We are currently seeking qualified candidates to join our team! Candidates with strong communication skills, attention to detail, and drive to succeed are encouraged to review our openings and submit a resume via our Careers page or the Frontline Asset Strategies page on Indeed.com. Learn more by watching our recruitment video: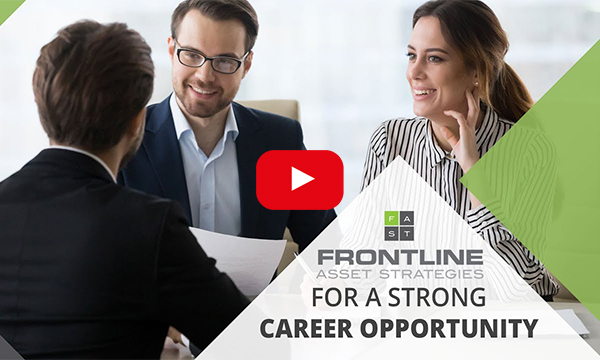 FAST Track to Success
If you're looking for growth or new opportunities, we offer rewarding careers with competitive compensation and benefits packages. Our team enjoys a positive, tech-centric, and encouraging work environment. We maintain pleasant, modern office spaces with experienced leadership and hands-on training. Employees are recognized and rewarded for positive performance and nurtured to success with ongoing training and development. 
ARM Industry Compliance
We prefer to hire candidates with experience in the accounts receivable management industry when possible, but we also recognize that great candidates can be taught. We are serious about compliance and we work hard to provide excellent customer service with the utmost integrity. Ideal candidates are eager to learn and understand the importance of maintaining regulatory adherence while treating customers with courtesy and respect. 
Culture of Professionalism
We enjoy a relaxed atmosphere while maintaining a professional culture focused on quality. We are members of several associations, including  ACA International and Receivables Management Association International. We are proud to be a Certified Receivables Business with the Receivables Management Association International— a reflection of our dedication to respect, transparency, and integrity. Frontline Asset Strategies is also an accredited business with the Better Business Bureau and maintains an A+ rating.
Share with a Friend
We encourage you to learn more about us by following Frontline Asset Strategies on Facebook or LinkedIn. Apply today or share with a great potential candidate! 
About Frontline Asset Strategies
Founded in 2008, Frontline Asset Strategies is a nationally licensed and bonded full-service collection agency specializing in accounts receivables management solutions that assist clients with maximizing the recovery of delinquent and non-performing accounts. The Frontline Asset Strategies team works with integrity and transparency to deliver positive consumer interactions that exceed expectations. We are headquartered in Roseville, MN with an additional location in Jacksonville, FL.