Frontline Asset Strategies is a tech-forward, nationally-licensed collection agency specializing in Accounts Receivable Management (ARM) solutions for local and national creditors and service providers. We've been providing quality, professional, and compliant collection services since 2008. Headquartered in Minnesota, our mission is to provide fair and transparent collection and recovery solutions through advanced technologies and positive experiences. If you'd like to learn more, we invite you to watch our FAQ video for answers to common questions: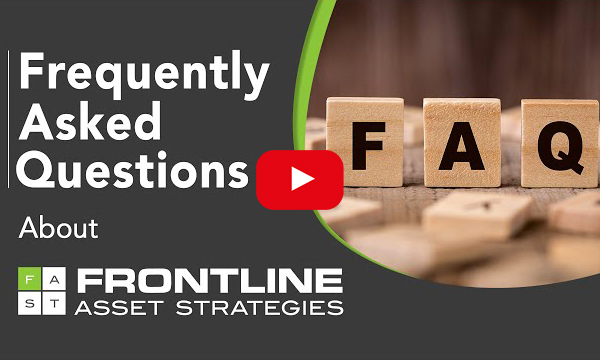 Assisting Consumers to Reach Resolutions
We contact consumers on behalf of companies who need assistance collecting past-due balances. If you've received a communication from us, we may be attempting to contact you about one of the accounts assigned to us by a client. We encourage you to reach out to us to discuss options for resolving your account. We can help you get started on a path toward greater financial freedom. 
Our team aims to ensure all consumers are treated with care and respect with a consumer-focused approach. We understand that life brings challenges, and we realize the account resolution process can be stressful. We strive to provide helpful assistance for consumers throughout the process as we provide resources and information to help you invest in the health of your financial future by resolving past-due debt. 
Helpful Team and Worry-Free Website
Consumers will find that our skilled representatives are a highly valuable resource. If you would like to make a payment, discuss payment arrangements, or ask a question about your account, our friendly and knowledgeable team is here to assist you. Call us at 877-258-1590 or email us at [email protected]. A service representative will answer your call or respond to your inquiry during our business hours from 7am-7pm Central Time, Monday through Friday.
We also provide helpful forms, email and text authorizations, free financial education resources, and more on our website so that even when our office isn't open, you can get the information you need. We strive to make the process simple and hassle-free to the best of our ability. Whether you'd like to make a payment online, set up a recurring payment plan, manage your account details, or request account information, our secure and convenient payment portal is accessible anytime, anywhere. 
Contact Us and Explore More
To learn more about Frontline, visit our website, follow Frontline Asset Strategies on LinkedIn or Facebook, or give us a call at 877-258-1590 to explore the many opportunities for consumers and clients that Frontline has to offer. 
About Frontline Asset Strategies
Founded in 2008, Frontline Asset Strategies is a nationally licensed and bonded full-service collection agency specializing in accounts receivables management solutions that assist clients with maximizing the recovery of delinquent and non-performing accounts. The Frontline Asset Strategies team works with integrity and transparency to deliver positive consumer interactions that exceed expectations. They are headquartered in Roseville, MN with an additional location in Jacksonville, FL.